By: Kosin Huang
Whether you are new to the Bay Area or to owning a dog
or not, it's always nice to learn of great places to take your pet.
Below you'll find a few fantastic, pet-friendly places in the East bay, where hours of fun are waiting to be had by you and your furry friend.
1. Point Isabel—If you haven't been here with your pooch, you are missing out on one of the coolest spots near Berkeley. It is an entire island outfitted to be a dog park, complete with its own dog cafe and and dog wash station. The address is:
2701 Isabel St, Richmond, CA.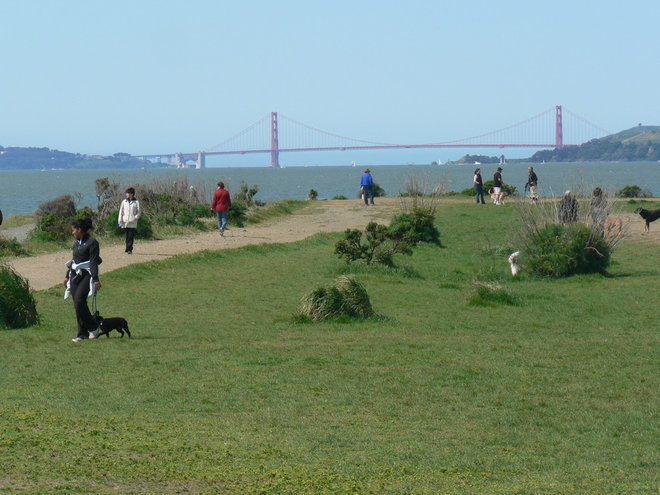 Point Isabel. Photo from Houzz.
2. Bruce King Memorial Dog Park—New dog park located in El Cerrito. Divided into two parts, it has one side for small dogs and one for large dogs. While it's small, it's a nice park with water and benches. You can find Bruce King Memorial Dog Park on Lexington (2 blocks east of San Pablo) between Blake and Portrero.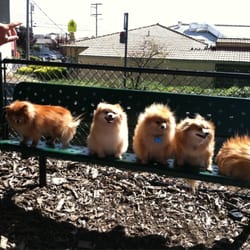 Bruce King Memorial Park. Photo from Yelp!

3. Berkeley Marina (Cesar Chavez Dog Park)—

César Chávez Park is ninety acres of gently rolling hills located at the Berkeley Marina.

In 1998, the Berkeley City Council voted to establish an off-leash dog area of approximately seventeen acres in the northernmost section of the park. It's a

great place to go on weekend mornings with your dog or during daytime hours when it's not too busy. Just watch out for foxtails! The address is:

11 Spinnaker Way.
Cesar Chavez Dog Park. Photo from Yelp!

4. Willard Park—Dubbed "Williard Pooch Park" by locals,

it's technically not a "dog park," but there's a respectful, silent agreement that pet owners are responsible and mindful of doggy behavior. It's a pleasant

little park to bring a blanket and your dog and do some people watching. Lots of families as well as singles. You can find Willard Park on

2730 Hillegass Ave.

5. Berkeley Racing Canoe Center—

The Berkeley Racing Canoe Center, home to the DragonMax team, welcomes human and canine visitors to drop by by M-dock at Berkeley Marina during Monday and Wednesday evening practices from 6 p.m. to 7 p.m. If your canine pal is well behaved and calm aboard, you can catch a ride. If it's your first visit, arrive 15 minutes early to get situated. The address is:

201 University Ave.
Kosin Huang is a board member and development committee chair at Berkeley Humane. She lives in the East Bay with her husband, daughter, and a rescue mutt named Spartacus.
Spartacus!